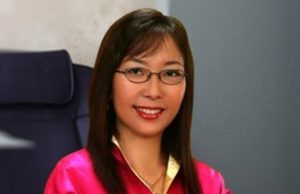 "I think.. aid from Canada to our army is very much needed. I ..suggest Canada.. send more military experts to give training to Malaysian army officers to combat against terrorism." Malaysian Opposition Leader Teresa Kok commenting on Canada's recent commitment to assist Malaysia in combatting terrorism.
By Justin Chambers; 2017-11-06, 11:35 GMT-6
Malaysian MP Teresa Kok is taking a lead role in the Malaysian political opposition community. As Deputy Secretary General of the DAP (Democratic Action Party) this 53-year-old female firebrand has catapulted herself to national recognition in Malaysia's turbulent political scene and along with her coalition opposition partner (and fellow woman), Dr. Wan Azizah President of the Peoples Justice Party (PKR), has helped break the religious and gender barriers that previously dominated the country's socio-political culture. I had the pleasure of interviewing her during the first week of November 2017.
'Teresa' (as she is referred to locally) is stylish, dynamic, single, of Chinese descent and is a devout Roman Catholic in a country that's dominated by a Muslim majority of 60%.  In a society that was once considered the most moderate and tolerant Muslim nation in the world Malaysia is experiencing a rise in Islamic extremism now common to Far Eastern countries with Muslim populations.  The Southern Philippines is a case in point with Islamic extremism and ISIS finding new battle theaters there after their ouster from Syria and Iraq.  Indonesia has not escaped the scourge of terrorism as well.  The North Korean crises and Superpower maneuvering in the South China seas has put Malaysia at the epicenter of global political instability. For these reasons Malaysia is now a key regional State that can not be ignored by either the US, China or Russia.
Under this backdrop and having been arrested on trumped up charges over the years by the Malaysian government Teresa is fearless and resolute.  This is a woman who, despite being elected to parliament back in 1999 and who was also political secretary to DAP Party Chief Lim Kit Siang from 1990 to 1995, had to suffer the embarrassment of being singled out and ridiculed by a fellow male MP (Tajuddin Abdul Rahman of the ruling UMNO coalition) when he stated in parliament over a year ago that "the only woman with a Kok is in Seputeh" (Seputeh is Teresa's parliamentary constituency).  This caused an uproar in parliament, but MP Rahman defiantly refused to issue an apology to Teresa.  Tajuddin in a press conference held afterwards told reporters "What's the problem? I said she's the only woman with the name 'Kok'. Is that wrong?" Such outlandish behavior and female gender bashing by a member of Malaysia's parliament only serves to confirm that Malaysia's new female political leadership is shaking the institutional foundations of the country and by doing so is threatening the male dominated political status quo. And no one seems to be doing with as much class, flamboyance and flare as Ms. Teresa Kok.
Consider past Malaysian governments attempts to silence Teresa.  In 2008 she was arrested on trumped up charges under the ISA (Internal Security Act).  Then she sued the government over false arrest and in a protracted nine-year legal battle was last week awarded a 350,000 Malaysian Ringgit settlement for wrongful arrest (About $105,000 CAD) by the Malaysian Federal Court.  The case was obviously politically motivated from the start and the fact that a serving Malaysian MP had to wait nearly a decade to be legally cleared of a false arrest indictment is simply an embarrassment to the Sovereign authority of Malaysia. But the Malaysian Ministry of Justice seems not to care about the rule of law in a civic society.
On February 1, 2014 Teresa released a 'Saturday Night Live' type satire video for the Chinese New Year entitled 'Onederful Malaysia CNY 2014' (link: https://www.youtube.com/watch?v=JtsRcId70bk ). The Malaysian police then charged Teresa under the Sedition Act 1948 for "criticizing the government or government officials" (a tactic that the Malaysian government routinely deploys to repress dissidents).  According to Human Rights Watch the video "depicts Kok as host of the program with three volunteers playing characters before a small audience. The video makes no mention of any individual or the government."  After viewing the video one of my research team members noticed that one of the characters in the video had a striking resemblance to Prime Minister Najib's wife Rosmah.  Perhaps this is the real reason that the police charged Teresa? Either way the case had a major impact on her. Her personal mobile and home address were circulated on the internet and the UMNO spared no effort in vilifying her in the government controlled press. UMNO operatives had hundreds of private citizens file police reports against her for insulting Islam and the government for the content of the video.  On February 19, 2014 a slaughtered chicken, red paint and a photocopy of the portrait of Teresa were found at the staircase on the ground floor of her five-story building in Kuchai Lama here where she has her office. A year and a half later in November 2015 the government dropped the sedation charges against her. There are multiple instances where the Malaysian government has tried to charge and harass her over the past 20 years. Such is the day to day world of being a female political opposition leader in Malaysia.
Teresa also has an ongoing law suit against a low ranking UMNO official (Jamal Yunos) for defamation in a case where Ms. Kok was wrongfully accused of embezzling state funds. She has also taken on the Malaysian Anti-Corruption Commission accusing it of cronyism and collusion with the Najib government. She also spares no prisoners in her passionate speeches in parliament where one can literally see UMNO MP's squirming in their seats while she delivers accusations of graft and greed against offending government officials. The amount of bullying and humiliation tactics that UMNO MP's have used against MP Teresa Kok forces her to defend herself and her political party on a daily and weekly basis. Such behavior by UMNO MP's would never be allowed in the Canadian Parliament or US Congress.  If you're going to make false accusations against Teresa watch out. Her ability to leverage the legal system and her courageous personality make her a formidable political adversary to butt heads with.
The UMNO has made of habit of trying to make false accusations of impropriety against Teresa (and other senior political opposition leaders), but none of it sticks.  I had my research team check out some of the outlandish allegations made against Ms. Kok and we could not find one credible story that could implicate Ms. Kok in any wrong doing or corrupt activity. In a country enmeshed in political corruption Ms. Kok (and her coalition partner Dr. Wan Azizah) are nationally perceived as being so squeaky clean that the ruling UMNO is now on 'the ropes' as it defends itself against one corruption allegation after another.
In an interview I had with Teresa last week she described herself as a political "Jack of all trades" and her parliamentary and governmental experience backs up that claim. She was a key member of the 'Parliament Select Committee on Review of Penal Code & Criminal Procedure Code' and a lead peace negotiator in the Burma peace process; she is a Secretary and Co-Founder of the ASEAN Inter-Parliamentary Myanmar Caucus (established in 2004) and was a member of the Selangor Government Executive Committee for Investment, Trade and Industry from 2008 to 2013. (Selangor is the top revenue earning State government in Malaysia).  She also has been an advocate for recognition of Chinese rights in Malaysia and has worked to have the Chinese Unified Examination Certificate-Senior Middle Level (UEC-SML) high school certification program recognized by the Malaysian Ministry of Education.  (The Malaysian government does not recognize high school certifications issued by local Chinese educational institutes).
The million-dollar question now is when the Malaysian Prime Minister is going to announce the next general elections which, according to the county's constitution, must be held by August 2018. According to Teresa the next general elections probably won't be held in Malaysia until "next year". And during this interim period Prime Minister Najib Razak is fending off a major corruption scandal called the '1MDB' affair which involves fraud, corruption and theft of potentially billions of USD from Malaysia's sovereign wealth fund; an ongoing investigation by the US Dept. of Justice identified over 700 Million USD linked to a bank account of Prime Minister Najib Razak.  His tactic of attempting to hold off on the elections in the hope that the '1MDB' will fade away has severely backfired. As every day passes more corruption scandals are revealed and while Najib is engulfed in political quicksand the popularity of the DAP, PKR and the entire 'Pakatan Harapan' opposition umbrella group rises in tandem.
One notable point Teresa made was her hard stand against terrorism and the foreign aid (including from Canada) that Malaysia needs to assist it in battling terrorism. She was unaware that Canada had committed $10 Million CAD in April this year (2017) to assist the Malaysian Army in the training of Anti-Terror units.  Teresa said that she had ".. not been informed about the commitment of funds from Canada's Defence minister to Malaysian Army…I think such aid from Canada to our army is very much needed." She went on to say that Canada should "send more military experts to give training to Malaysian army officers to combat against terrorism".
Malaysia has become a strategic partner with the West in combatting terrorism. With ISIS emerging in the region and the Philippines, Thailand and Indonesia fighting deadly battles with the terrorists on a daily basis the stakes could never be higher.  In a highly controversial case the Malaysian government has given permanent residency to a wanted Islamic cleric from India, Dr. Zakir Naik who has been barred from entering the US, Canada the UK and most EU countries. India's National Investigation Agency (NIA) has indicted Zakir for "promoting enmity and hatred between different religious groups in India through public speeches and lectures".  He has vocally supported Osama Bin Laden, Al Qaeda and ISIS. In 2006 he openly declared in an interview for "every Muslim to be a terrorist".  MP Teresa Kok took up the cause to question the government in parliament on its handling of the case and demanded (in highly publicized interviews) that Dr. Zakir be sent back to India. The Malaysian government has stated that its waiting for an official extradition request from India before Dr. Zakir can be deported. Zakir's lawyer however stated in an interview 3 weeks ago that he will fight any extradition request.  The government's mishandling of this case was brought to national attention by Teresa and falls squarely against Prime Minister Najib's commitments to President Trump (in a meeting the two had in Washington this past September) that Malaysia would fully support the US (and the West's) fight against terrorism in South East Asia. Without any doubt Teresa's recent vocal activities to have Dr. Zakir deported back to India has established her credentials as being tough when it comes to terrorism.
I submitted 10 written questions for Teresa which she kindly answered in writing last week.  Listed below are the questions and answers:
JC- In April 2017, Canada's Minister for National Defence, the Honourable Harjit Sajjan visited Malaysia to highlight Canada's military and strategic engagement in Malaysia and Southeast Asia. Canada committed over $ 10 Million CAD to support ant-terrorism training programs for the Malaysian Royal Army. Do you feel that Canada can do more to assist Malaysia in combatting terrorism?
Teresa Kok: "First of all, I have not been informed about the commitment of funds from Canada's defence minister to Malaysian Army. However, I think such aid from Canada to our army is very much needed. I would like to suggest Canada to send more military experts to give training to Malaysian army officers to combat against terrorism. I also believe that more exchanges of information on the combat against terrorism is important."
JC- Canada's trade with Malaysia now reaches over $3.2 BILLION USD per annum. Do you believe it is better for Malaysia to focus on trade with countries such as Canada as opposed to building deeper trade relations with China?
Teresa Kok: "I believe small country and small economy like Malaysia should have trade relations with many countries in the world, and not building trade relations with China alone. So that we won't be over-dependent on a big economy/nation only."
JC-In 2012 Malaysia's state-owned energy company Petronas acquired Canada's Progress Energy for $5.5 billion; this is one of Malaysia's largest foreign investments. Do you believe that Malaysia has benefited from this deal?
Teresa Kok:  "Sorry, I have no knowledge on this purchase or deal. I can't comment much on this. However, I believe Petronas wish to expand its business and investment out of Malaysia. I believe the company has done its homework and calculation on such deal."
JC-If the Pakatan Harapan wins the forthcoming 14th General Election would you consider any Ministerial portfolio, or is there a specific government ministry that you would like to oversee as Minister?
Teresa Kok: "I can't answer this question too, as there are so much uncertainties in the current political situation. I can fit in any portfolio as I believe politicians should be "all-rounded" and be "Jack of all trades".
JC-If the Pakatan Harapan wins the 14th General Election, what major economic policy innovations do you have for enhancing the country's productivity and market efficiency? And how would these reforms and innovations effect the trade relations between Malaysia and Canada?
Teresa Kok: "First of all, I would like to suggest you to read the alternative budget of Pakatan Harapan. You will then have an idea on what we intend to do and what we want to offer to fellow Malaysians.
Pakatan Harapan believes in raising minimum wage and general wages in the country, improve the quality of education, reduce the dependence of foreign work force, enhance the compactivity of the country. I think it is too long for me to put them in words here :-)"
JC-Do you believe that there is a strong possibility that the PAS political party will join forces with the BN in the upcoming 14th General Election to spoil the electoral chances of the Pakatan Harapan?
Teresa Kok: "I believe PAS will join force with BN in an indirect manner, it will play the role of "spoiler", so that PAS can reduce the chances of PH to win in many seats."
JC- Do you believe that your recent political initiatives to have the Chinese Unified Examination Certificate-Senior Middle Level (UEC-SML) high school certification program recognized by the Malaysian Ministry of Education will transpire into tangible results?
Teresa Kok: "The Pakatan Rakyat coalition has promised to recognize UEC in the GE of 2013. We will keep the commitment in the manifesto of coming GE too."
JC- Do you believe that the relations between DAP and the PKR will remain strong up to and during the 14th General Election?
Teresa Kok: "The relationship between DAP and PKR is so far so good. We are coalition partners in the state government in Selangor and Penang since 2008. We don't have much squabbles except we don't agree with PKR to engage with PAS and to keep PAS as coalition partner in the Selangor government."
JC- Do you support a woman's right to have an abortion? And would you describe yourself as being 'Pro-Choice' or Pro-Life' on the issue of a woman's right to have an abortion?
Teresa Kok: "I am a Catholic. I am a 'pro-life' supporter."
JC- Can you tell me about the role that your religion plays in your professional and personal life?
Teresa Kok: "My Christian faith has great influence on my professional and personal life. God has helped me to go through so many storms and fires in my life, including my political involvement. I have many testimonies of walking with God in life but I can't share them in public as not many people will share my views and experiences. Malaysia is a multi-ethnic and multi-religious society. I have to be a leader to all and not leader for Christians only."
Based on Teresa's answers to my questions one cannot stop to wonder what role she will be playing over the next decade in Malaysia's body politic. If the Pakatan Harapan opposition group wins the next general election one can safely assume that Teresa will be appointed to a senior government position.  A close look at her achievements and her vast political experience makes her a serious contender for any executive position if the opposition takes power.  In my opinion Malaysia is now ready for electoral regime change. And its women like Ms. Teresa Kok who have the guts and brains to lead Malaysia's young generation over the next generation.  The motto of the world famous British Special Air Service ('SAS') commando unit is 'He who dares wins'.  In Malaysian politics the bravado and sheer force of Teresa's personality has now changed that motto to read 'She who dares wins'. The Canadian government would serve itself well if it kept its eye on key opposition leaders such as Teresa Kok and her close associate PKR President Dr. Wan Azizah.  Together these two women, who are the top two female leaders in the political opposition umbrella, will ensure that the country's upcoming general elections is a watershed moment in modern Malaysian political history.