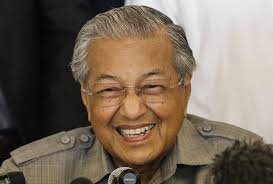 With supposed elections coming up in Malaysia sometime towards the end of this year (no one knows yet when the elections will be held) Carole and I decide to research and investigate freedom of the press in Malaysia and the bilateral relationship between Ottawa and Kuala Lumpur. Most Canadians don't know it but Malaysia is Canada's third-largest bilateral merchandise trading partner in the Association of Southeast Asian Nations (ASEAN) with bilateral trade that reached $3.2 billion in 2014 according to official trade figures released by Canada's High Commission (Embassy) in Kuala Lumpur. That's since Malaysia is a major oil and gas producer but our economic relationship has now dovetailed into Advanced Security, Aerospace, Construction & Infrastructure, Environmental Infrastructure & Waste Water and a boom in Medical Technology. (For example, Malaysia's state-owned energy company Petronas bought out Canada's Progress Energy for $5.5 billion in 2012; this is one of Malaysia's largest foreign investments).
When it comes to freedom of the press in Malaysia Prime Minister Najib Razak has ensured that the country maintains its strict press censorship laws and according to the BBC's Country Profile report on Malaysia Razak's "rise to power was marked by a government crackdown on the resurgent opposition, with allegations that strong-arm tactics were being used to stifle political dissent." I look very forward to seeing for myself what is going on in Malaysia's current media crackdown.
Despite the polarized dynamics of the Malaysian political system its institutional stability stems in part to the fact that the King of Malaysia is elected every 5 years through a system of hereditary lineage and votes passed down through the country's nine ruling sultanates. Malaysia's 15th king, Sultan Muhammad V is the only head of state in the world to be crowned through a rotational monarchy in this nation of 31 million people which includes a moderate Sunni Muslim majority of over 60%. The disparities of this exotic country are too stark to describe. On one hand, the Malaysian growth rate for 2016 was over 4.2 % and the country has been a darling to the west in its effort to combat international terrorism and to engage in lucrative trade deals; on the other hand restrictive press freedoms and anti-gay laws promoted by the government through Orwellian type efforts by the Ministry of Health such as offering cash prizes of up to $1,000 for the best videos explaining how to "prevent" homosexuality have caused an outcry with international human rights and LGBT groups.
With an array of opposition political parties that have formed alliances for the upcoming general elections that are purported to be held by the end of 2017, Prime Minister Najib Razak's ruling Barisan Nasional ('BN') political party (which is part of the so called UNMO coalition) is struggling to stay in power and to do damage control on the many corruption scandals that have plagued it over the past few years. A new opposition coalition umbrella called the 'Pakatan Harapan' ('Pact of Hope' in local Malay) was formed and its leadership (many of whom I will personally interview) feel that the moment has come to remove the BN, and Razik from power. Over the next couple of months I'll be publishing feature articles and insights into Malaysia's vibrant politic scene and be investigating all of the country's top political opposition leaders. Canada must take a closer look at Malaysia and I am more than happy to take up that cause! -JC