Embattled former Mexican 'Top Cop' Tomas Zeron de Lucio shown in an undated photo
Tomas Zeron de Lucio is a household name in Mexico and is facing a personal and professional crisis of a lifetime.  As Mexico's former Director (and founder) of the Criminal Investigation Agency (AIC), he held most of Mexico's executive law enforcement positions including Chief of the 'Preventive Federal Police' (which since disbanded), Director of the 'General intelligence Directorate', as well as Chief of the 'Investigations and Analysis Unit'. Tomas Zeron de Lucio was the main liaison to the FBI and DEA for years.
How did this man who was one of the few honest and brave Law Enforcement officers in Mexico, credited with capturing El Chapo and having him extradited to the US in 2017 as well as the capture and arrest of Drug Boss Hector Beltran Leyva in 2014 and several other Cartel leaders,  end up being charged with criminal offenses in March this year, stemming from complicity and corruption in the investigation of the disappearance of 43 students in Iguala (Guerrero State) in 2014?
The answer is simple.  The rudderless policies and systemic corruption of Mexico's President Andres Manuel Lopez Obrador - otherwise known as 'AMLO'-  who, at 67 years of  age,  is turning Mexico into a Narco-State by acceding to demands of the Drug Cartels in his drive to reach some kind of peace with the Narco-Kings of his country.
In a never seen before photo, Tomas Zeron de Lucio (below left) is seen escorting 'El Chapo' (below right) to the airport tarmac in Mexico City where a waiting aircraft extradited him to the United States on January 19, 2017.
The difference between AMLO and Tomas Zeron de Lucio is striking to say the least.  Mr. Zeron de Lucio's no-nonsense serious demeanor is in stark contrast to AMLO, a rhetorical left-wing politician who has about as much charisma as the former head of the UK's Labour Party Jeremy Corbyn (not surprisingly AMLO and Mr. Corbyn are very good friends).  AMLO's vast experience in Federal and State politics is well known.  In April 2005 he brought over 1 million people to the streets of Mexico City when he was head of the 'Federal District' (a position that is in fact Mayor of Mexico City).  AMLO was accused of corruption charges by then Mexican President Vicente Fox.  At the time President Fox backed down and dropped the charges against AMLO.
When AMLO came to power as President he promised sweeping changes and eradication of corruption in Mexico. The opposite in fact has happened.  After being President for less than two years, AMLO has harassed former Government officials of the previous government and has launched repeated attacks and criminal charges against Mr. Zeron de Lucio who was Mexico's former 'Top Cop' and darling of international law enforcement. In a dizzying display of psychotic punitive legal actions, AMLO has charged Mr. Zeron de Lucio with covering up a botched investigation in the disappearance of the 43 students in Iguala (Guerrero State) in 2014 and has also accused him of torturing one of the arrested suspects in the case.  AMLO has not just targeted Mr. Zeron de Lucio; several other former officials from the Attorney General's office and the AIC are being investigated and charged for alleged money laundering, corruption, and tax evasion.
Mexican President Andres Manuel Lopez Obrador in 2019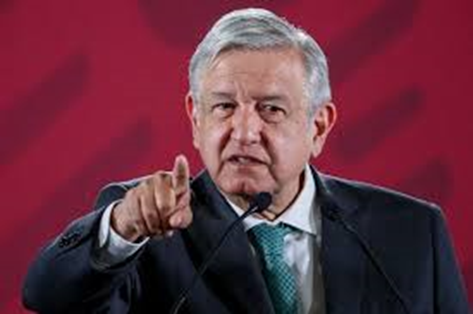 The holes in the indictment of Mr. Zeron de Lucio over the investigation of the disappearance of the 43 students in Iguala on September 26, 2014 (known locally as 'Ayotzinapa case'), are glaring and generate more questions than answers.  The 'Ayotzinapa case' rocked former Mexican President Enrique Peña Nieto's administration and resulted in Mr. Zeron de Lucio resigning his position as Director of the Criminal Investigation Agency (AIC) in September 2016.  He was shortly thereafter appointed as Technical Director of Mexico's Intelligence Agency ('CNI').
During the first 11 days of the student's disappearance the case was handled by local authorities in the Mexican state of Guerrero.  It was only then that Mr. Zeron de Lucio was brought in to take over. Furthermore, transcript of text messages and calls between the leadership of the Guerreros Unidos (the Drug Cartel suspected of murdering all the students) that were covertly obtained by the DEA from September 24 to October 6 of 2014 and where they admit that they have killed the students, were never fully released to the Mexican authorities and key parts of the Guerreros Unidos conversations were either redacted or just simply deleted.  (Link - www.ejecentral.com.mx/la-dea-oculto-la-verdadera-noche-de-iguala ).
The Mexican President (center) standing with the families of the 43 missing students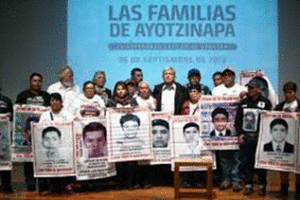 Another key piece of information regarding Tomas Zeron De Lucio that has not appeared at all in the media, is where the DEA (and the US Government) stands on this case.  The DEA has refused to comment on Mr. Zeron de Lucio's predicament and unsubstantiated reports that Mr. Zeron de Lucio may have fled to Canada have also not been commented on by the RCMP, Canada's Federal Police Force.  Indeed, one may wonder why Mr. Zeron de Lucio's former close friends in the DEA and RCMP have not commented on the case especially where the Americans are concerned.  The US has never been bashful in the past of 'name blaming' specific Mexican officials who are corrupt, but have chosen not to do this in Mr. Zeron de Lucio's case.  The Americans - it seems - for once have nothing much to say on the matter, which, within the context of the current Mexican government, is pretty damning.  While AMLO has been cozying up to the Drug Cartels and has released more convicted and indicted Narco-Bosses than any other Mexican President, his relationship with the DEA (and the US Government in general) has taken a nosedive.   Even Mr. Zeron de Lucio's supposed 'Red Notice' from Interpol (issued by request of the Mexican Government on March 18, 2020) is questionable.  Interpol's website, which a person can easily access on line and view all 'Red Alert' fugitives, does not list Tomas Zeron de Lucio as having a 'Red Notice' and also does not list him anywhere on the website (www.interpol.int/en/How-we-work/Notices/Red-Notices ).
AMLO's close associations with Mexico's Drug Cartels although strenuously denied cannot be taken seriously when you examine the current rising crime statistics in the country, his official policy of ending the 'War Against Drugs', and the early release from prison of Drug bosses as well as easing prison conditions of other incarcerated crime bosses. Over 35,000 people were murdered in Mexico during AMLO's first year in office. It is a given fact now that AMLO's policy of focusing on social and medical programs in Mexico to combat the drug cartels influence on society has failed miserably. With a median age of less than 30 years, Mexico is teetering on social implosion due to the Mexican President's shameless and asinine polices.
AMLO has created an environment that perpetuates police corruption and nurtures a criminal world where terror reigns and the average Mexican citizen feels scarred and helpless. AMLO even went so low as to remove the security detailed assigned to Tomas Zeron De Lucio after he was chased from government service.  To do this to Mr. Zeron de Lucio, who is the man that brought down El Chapo, and has a stellular reputation and unquestionable integrity is a crime.  And of the 144 people originally arrested by Mr. Zeron de Lucio in the 'Ayotzinapa case' over 74 have now been released by AMLO.
AMLO, EL Chapo and the  Sinaloa Cartel
The accusations and rumors about AMLO being paid by the Sinaloa Drug Cartel and EL Chapo's family members are now finally gaining traction.  This is why over 15 Journalists in Mexico have been murdered in Mexico since 2018. The Publishers of the famous Reforma newspaper have also been directly threatened to retract anti-AMLO articles the newspaper has recently published and have promised to blow-up Reforma's offices if they do not comply.  When  Tomas Zeron de Lucio was Chief of the AIC he vigorously protected the right of free speech in Mexico and diligently investigated the constant threats made against Reforma and other newspapers and on line media outlets in the country.
AMLO is a very close friend of El Chapo and the Sinaloa Cartel. This is confirmed by the fact of AMLO's recent meeting with El Chapo's mother during the Coronavirus pandemic and the release of El Chapo's son, Ovidio Guzmán López in October 2019 after he was briefly arrested in Culiacán in the Mexican state of Sinaloa. Over 200 armed members of the Sinaloa Cartel  took over central Culiacán after the arrest and held soldiers and police hostage and demanded López's release in exchange.  AMLO caved into the 'Drug Thugs' and released López claiming that it would 'save lives'.   These actions were widely criticized by the media and the people of Mexico and not only caused a massive embarrassment to the Mexican President; it also caused a meltdown with his relationship with the DEA and its senior agents in Mexico, who were furious that El Chapo's son was let go.  El Chapo is the country's most notorious gangster and drug lord and AMLO's meeting with his mother and releasing his son after his arrest sends a message to Mexico's youth that its ok to deal drugs and if you get caught don't worry; AMLO will feel sorry for you and let you go free.
On the other hand, Tomas Zeron de Lucio is not only famous for his battles against the drug cartels in Mexico.  During his career in senior law enforcement Mr. Zeron de Lucio was intensely involved in fighting other Serious and International Crime syndicates involved in array of activities including Cybercrime, human trafficking and embedded corruption in the Mexican military.
El Chapo literally killed thousands of innocent Mexican citizens.  But AMLO does not seem to mind this at all.  He would prefer to accuse to Tomas Zeron De Lucio, Mexico's former Criminal Investigations Chief of ludicrous crimes that no one believes he committed.  The biggest crimes being committed in Mexico today are being carried out by the President.  He must be held accountable for his actions and exonerate all criminal charges now pending against Tomas Zeron De Lucio and reinstate him in government service so he can continue his battle against the county's powerful drug cartels. Failure to do so will have catastrophic effects for the people of Mexico, who will continue to suffer the scourge of corruption and Drug wars in their country while the political elite lives in shameless luxury.